Creative Director / Design Designer
2017 — 2018
Raden was a smart luggage company; i.e., luggage with an integrated removable battery you can use to charge devices via USB and an accompanying mobile app you can use to weigh your luggage. I joined the team in early 2017, about 12 months after Raden's launch, as their first in-house product designer and creative. This eventually turned into a creative director / design director role.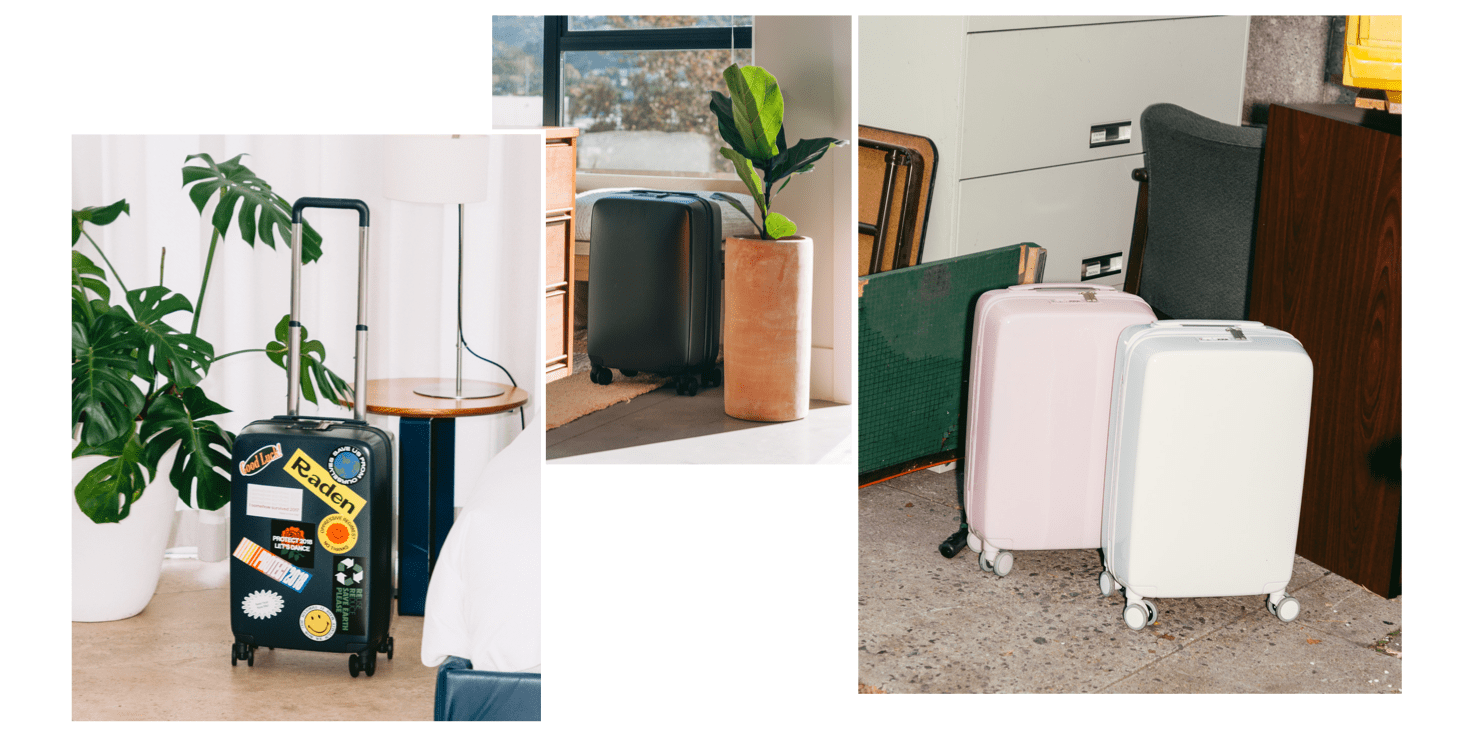 When I initially joined the team my primary role was as product designer — leading the direction of the iOS application and helping plan both the short-term and long-term roadmaps. Within 2-3 months, I slowly took over all of the work previously being handled by the creative agency working with Raden since launch.
This additional work included higher-level brand and creative strategy alongside managing the production of day-to-day design (and front-end development) needs, including email marketing, designing & developing landing pages, front-end development for the e-commerce site, and so on. It also included zeroing in a more refined direction for the brand, and producing the necessary photo assets, either with selected photographers or myself, to steer the brand in this new direction.
The digital product at Raden was the mobile application. With fairly straightforward functionality — letting you pair your bag with the app, seeing the weight of your bag, and getting the charge status of the battery in the bag — the primary goal was to minimize the number of steps the user had to go through from opening the app to completing their objective, while also adding in new functionality that would encourage users to return to the app more often.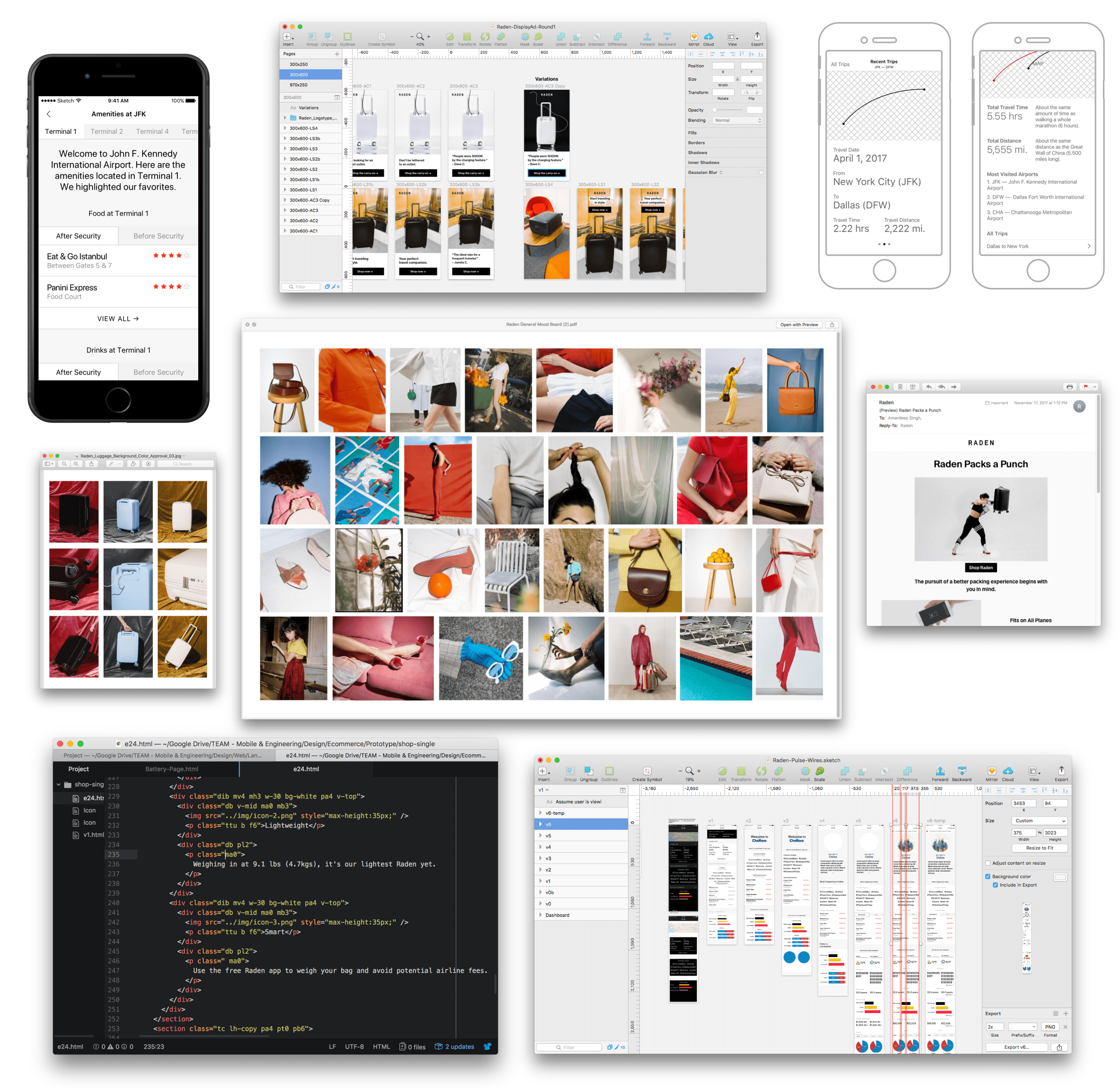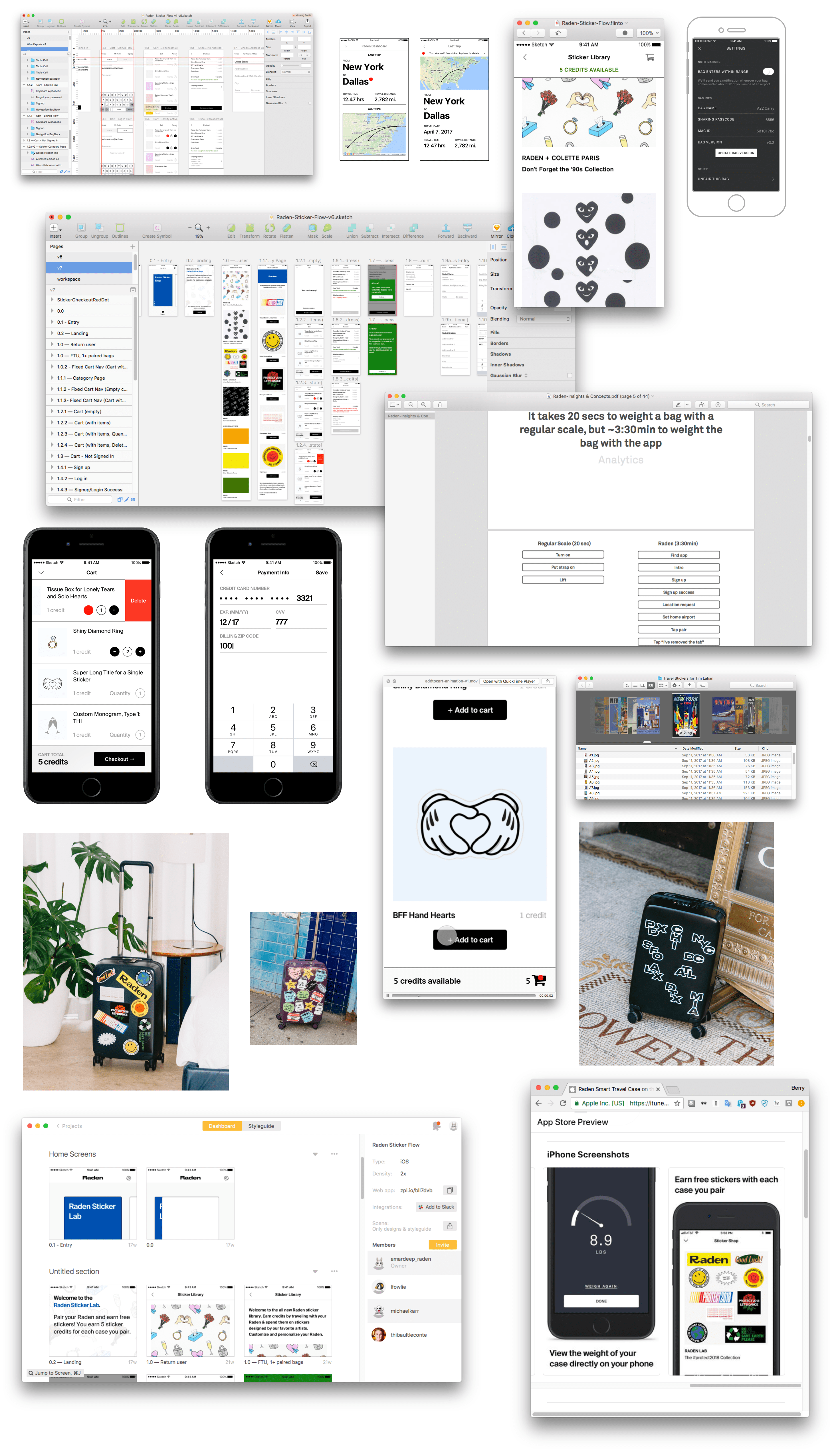 After initially iterating on and designing two new features for the app using customer data about the average Raden owner's demographics, interests, and locations frequently travelled to/from, we opted instead to develop a third product called the Raden Sticker Shop that would serve as both a marketing initiative and a digital experience centered around individual customization of bags using stickers designed by both Raden and selected partners.
Leading the design and direction of the Raden Sticker Shop digital and physical products, I designed the full feature for iOS, intentionally keeping the interface resembling a simplified e-commerce model to accommodate for features further down the roadmap, while also selecting the artists and brands we worked with and designing the Raden-branded stickers as well as the associated packaging and inserts.
We organized our tasks on Trello and whiteboarded, did user research with existing customer data from the app and the e-commerce shop, sketched (on paper), wireframed (in Sketch), designed (in Sketch), prototyped (in Flinto), designed icons (in Illustrator), and shared everything with the team to get feedback (with Zeplin). After 2-3 months of iterating, we released version 2.0 of the Raden app (with the Raden Sticker Shop & other new features) in November 2017.